Fully Tapping Service In Delhi NCR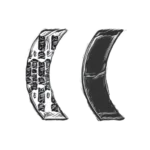 What Is The Fully Tapping Service ??
Patch Professor has best Fully Tapping Service In Delhi NCR, a non-surgical hair replacement technique that uses skin-friendly tape. Whether you are dealing with hair loss or simply want to enhance your look, tape is a common and reliable solution for keeping your hairpieces in place.
Fully tapping is a good solution for people who want to have their hair patch applied on their head without the need to visit the center again and again.
For People who cannot visit our center frequently, fully tapping service is very suitable. You can easily apply your hair patch at home.
People use many kinds of tapes for Fully Tapping Service, and each tape has its own hold time.
Extenda bond
Extenda bond plus tape is two-sided tape. There are many cuts and holes in the center in extended bond plus tape. This tape provides a long-running and dynamic hold for all hair Patch on your head. This tape is Safe for your skin and scalp.The extenda bond tape its Holding time is 3 to 4 weeks.
How long does the Fully Tapping service last?
The fully tapping service process depends on the life of your patch.
This service is long-lasting and easy to maintain. If you cannot visit the center you can go with this process.
Benefits of Fully Tapping Service
We use red tape, yellow tape, and tap cut. All of our products are skin-friendly.
It is a medically approved method.
Choose any hairstyle with a 100% natural look
Our method is low-cost to maintain.
Easy to wash